Home
Welcome to the Ẹdùn Ará - bloco de carnaval website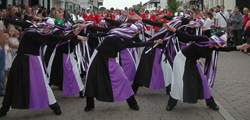 Ẹdùn Ará - bloco de carnaval is a percussion, song & dance performance based project that reflects the African heritage found in Brazilian & Cuban culture. We run workshops that culminate in a costumed parade and/or stage performance.


The project began in 2005 as one of the many workshops organised by One Voice Music. Since then it has grown so much in popularity that it has warranted its own website!

You can belong to your own local percussion group and be part of Ẹdùn Ará. Participants on the project range from individuals who have an interest in drumming or dance through to groups of people from a community Samba group.
By clicking on each of the menu items you'll find lots of information on this project including; how it began and how far it has developed, our current repertoire, workshops, rehearsals, performances and our future plans.
So come and take part, contribute to the special energy the project creates, make new friends and have lots of fun!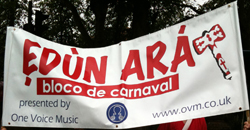 JOIN US
On this website, you can register to take part on our workshops and performances

Choose the FREE Membership or upgrade to a Premium Membership
Click here for details on how to join and to compare types of membership.
On-line Booking & Resources
Having opened an account, click on the Performances and Workshops menu tabs and sign-up to take part.
Once you have signed-up, we have a range of material that can be downloaded to help you learn the Ẹdùn Ará repertoire prior to attending the performance or workshop. These include; audio samples, grid style and standard rhythmic notation, lyric sheets, dance videos (subject to project) and a practice facility with MangoDrum.
Learn the repertoire with MangoDrum
MangoDrum is an invaluable practice resource. This software is very easy to use and gives you the opportunity to play along and practise. There are arrangements of all the grooves already uploaded for you to work with. You can select to loop an entire arrangement or section of the music, mute individual tracks, adjust the tempo and print out the grid notation.
Don't have MangoDrum?
No problem. You get a free Player version of MangoDrum when you sign-up for a performance. Premium Members get the same free Player version of MangoDrum along with their subscription.
To try out some of the editing features of MangoDrum Composer, you can download a 30-day trial version by clicking on the banner below.

You can find more information on MangoDrum on their website.
---
One Voice Music is a social enterprise that formed in 1997. We are a non-for-profit organisation that offers high quality education and training in Brazilian and Cuban percussion & dance for all levels of ability. Please visit our website for further details.